Year round health
Vie Val d'Is is available year round to help support you with any health care enquiries and to answer your questions.
Improving the health of those living in Val d'Isère, with the help of local partners, is one of the objectives of the association. Vie Val d'Is wishes to raise awareness of health risks related to the living conditions within resort and to facilitate healthcare access.
Blood donation :
Two collections are organised each year in Val d'Isère by the group "Français du Sang" and volunteers from "l'amicale bénévole des donneurs de sang" in Bourg-Saint-Maurice.
If you wish to donate, bring an identity card and eat beforehand.
Health day (la journée santé)  :
This event takes place once a year at the "Maison de Val". The aim of the health day is to provide free and anonymous consultations with various health professionals offering ; HIV, AIDS and hepatitis testing, skin cancer check, dentist, osteopath, contraceptive and sexual health information, advice on diet and nutrition, drug and alcohol awareness and psychological support.
The health day is free, anonymous and open to all.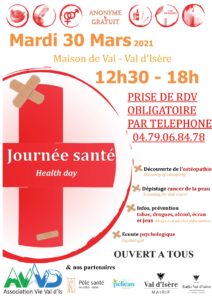 Fight against addictions :
Association Pélican, which specialises in helping addicts, offers support to those at risk from addictions to alcohol, tobacco, drugs, gambling, etc.
Contact : 06 37 89 52 63 , tarentaise@le-pelican.org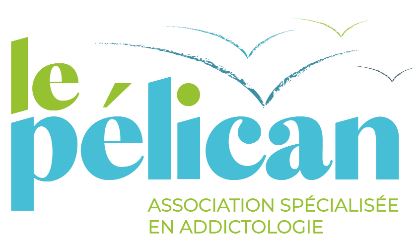 Work-health doctor (Médecine du travail) :
The aims of the work-health check is to look at the health of the employee, hygiene conditions and risks linked to the work environment. The Work Health (Santé au Travail) services are available for all your work related health enquiries.
There are several types of medical visits for employees :
-the information and prevention meeting, which replaces the previous "start of contract" doctors appointment which should take place no later than 3 months after the start of contract.
-the individual follow on check up for workers of professions with specific risks (asbestos, lead, decompression, etc.),
-check ups following sick / maternity leave,
-check ups upon demand of the employer, employee or work doctor,
-and complementary examinations which could be carried out or prescribed by the work doctor (for example, specific health problems related to certain professions)
Contact Val d'Isère : 04 79 07 02 75
Psychological support :
A social worker is also avalaible with appointement every wednesday morning at the CCAS.
CMP – Centres Médicaux Psychologiques :
Bourg St Maurice : 04 79 60 52 44
Moûtiers : 04 79 60 51 72
Family planning :
Medical consultations and information relating to contraception, abortion support (pre- and post-), etc…
Free emergency contraception. Pregnancy testing.
866 Avenue Maréchal Leclerc, Bourg-Saint-Maurice
Telephone : 04 79 44 53 15,
STD tests :
The CeGIDD (centre gratuit d'information, de dépistage et de diagnostic i.e. the centre for free information, testing and diagnosis) is open every Monday from 17h to 19h for all types of testing : HIV, hepatitis and other STDs.
Address : Centre Hospitalier de Bourg st Maurice, 139 Rue du Nantet
Telephone : 04 79 41 79 45
Email : cegidd@ch-bsm.fr
The "solidarity" centre.
The cost of living and the difficulties of setting up in Val for new arrivals as for year round residents is real. To help, the association has set up a thrift shop.
The thrift shop is a place to re-use and recycle your objects by giving them a second life.
Collecting clothing, bedding, towels, kitchen utensils and ski equipment, etc. Donations which are clean and in good condition are then resold for a symbolic price of between 1 and 5€.
Is located in the Maison de Val, open all year round during the Vie Val d'Is opening times.