Being a seasonal worker
The Vievaldis Association propose you his practical guide of Val d'Isère. You'll find all the informations, contacts and advices (healthcare, transport, culture, free activities…) you need to prepare a good and successfull winter 2021/22 with us.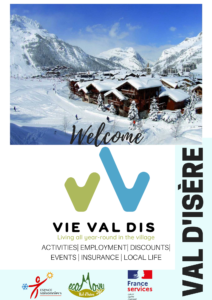 The ski pass
The conditions to apply for a season ski pass are still the same, you must be a Val d'Isère resident, resort partner, resort employee or family of a ski patrol. 
How to get yours  ?

Access to other useful information is available from the tourist office, townhall, lift company, etc.
Useful links :

Tourist office / Office du tourisme
Townhall / Mairie de Val d'Isère
Congress centre / Centre des congrès
Sports centre & swimming pool / Centre Aquasportif
Ski lift company / Val d'Isère Téléphériques